Scott Morgan Limited Edition Giclée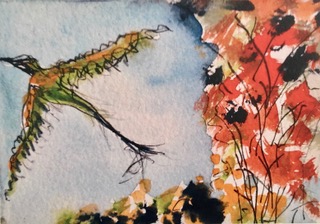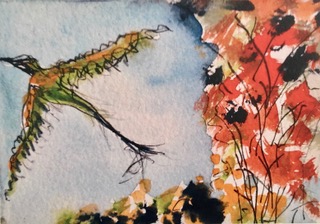 Scott Morgan Limited Edition Giclée
Winging It
12" x 17.5" full color reproduction
Printed in India on slightly textured heavy stock paper. Unframed.
Click image to see entire painting.
FREE SHIPPING in the USA only. For shipping to all other countries, please Contact Us.
A giclée is a printed reproduction of an original painting which is not necessarily the same size as the original art work.
During the final months of his illness, Scott Morgan hand selected a collection of 30 of his favorite watercolor paintings to be enlarged, printed, and framed for his Smile2TheEnd exhibition that traveled to three hospital galleries in Goa, India in 2013. This exclusive print edition was limited to 6 pieces of each painting and will never be reproduced again in this format. The exhibition set was donated to Dr. Ravindra Agrawal's nonprofit foundation in Goa. The remaining unframed inventory is being offered here for the first time.
Scott completed this project in the final three months of his life while confined to bed and did not have the energy required to sign and number the giclées. Scott Morgan Arts includes a Certificate of Authenticity with each giclée verifying these prints are from the original project batch reproduced in India for the Smile2TheEnd exhibition. Our special introductory price includes tax & shipping to USA only.